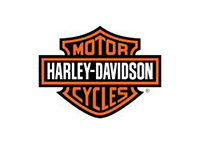 Harley-Davidson Softail Standard
Harley-Davidson Softail Standard is a bike that revels in its raw stripped-down bobber style. It's a bike that's a blank canvas for customisation. Those of us who love the old-school look will take to this machine in a heartbeat! As standard it has been designed for city cruising or light touring thanks to its low-slung stance, Milwaukee-Eight 107ci V-Twin motor and easy-reach bars. A powerful, smooth-running V-Twin engine with crisp throttle response and a pure, soul-satisfying rumble is more than enough. Meanwhile, the frame retains those classic, and much loved, Softail lines, but its lightweight design and stiffness translate to a pleasantly surprising responsive ride.
---
The classic look of spoked wheels, chopped fenders and Mini-Ape handlebars, with polished finishes for a stunning contrast against the Vivid Black paint contribute to that classic raw bobber style. That low slung 'tuck and roll' solo saddle shows off the chopped rear fender and sets the rider into the bike. The two into two offset shotgun exhaust with chrome shields and end cans gives the bike a long, low profile and a wonderful deep note. The classic logo on the smooth-top fuel tank shows off that latest generation Harley-Davidson power plant, that Milwaukee-Eight engine.