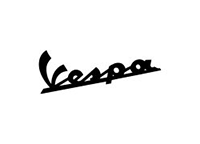 Sean Wotherspoon Limited Edition Vespa
Sean Wotherspoon is a rising star on the US fashion scene. He's an unstoppable experimenter as well as being a fanatic for all things vintage. He has an extraordinary approach to playing with colours. He mixes them together with innovative materials and different fabrics. You know him from the Nike Air Max 97 design which is what made him famous. These trainers are now changing hands for as much as €4,000! Now there is a special edition Vespa Primavera. This bike harnesses the creative energy shared by Vespa and Sean. Now it's finally available to buy! The collaboration between Sean and Vespa has also seen the creation of a capsule streetwear collection of t-shirts in classic vintage style, designed with fashion lovers in mind.
---
The designer's aim was to bring colour to the roads and he achieves this with his version of the Vespa Primavera by teaming bold colour contrasts with the distinctive style synonymous with the Vespa name. He successfully uses a mix of different materials such as metal, plastic, velvet and rubber together with the colour explosion redolent of the 80s do nothing to contradict his description, yet the vintage flavour synonymous with Vespa remains intact.
Recommended Retail Prices
Vespa Primavera 125 Sean Wotherspoon  €5,795