Panigale V4 – Ducatis' newest sportsbike
---
The numbers are shocking. Before I've even gone near the new V4 we've read the spec sheet and Ducatis' newest sportsbike, the V4 is putting out 214 horse power at 13,000 rpm while having a dry weight of only 174 kilos. This is the first mass production Ducati to feature a V4 block and it's only possible because of the companies involvement in MotoGP.
To help manage the power and the lack of weight, the bike features a host of electronic wizardry. The ABS system has been upgraded to the new Bosch cornering ABS offering that we first saw a few years ago on KTMs adventure bikes. This means that ABS will both activate and work even when the bike is leaned over in the middle of a bend.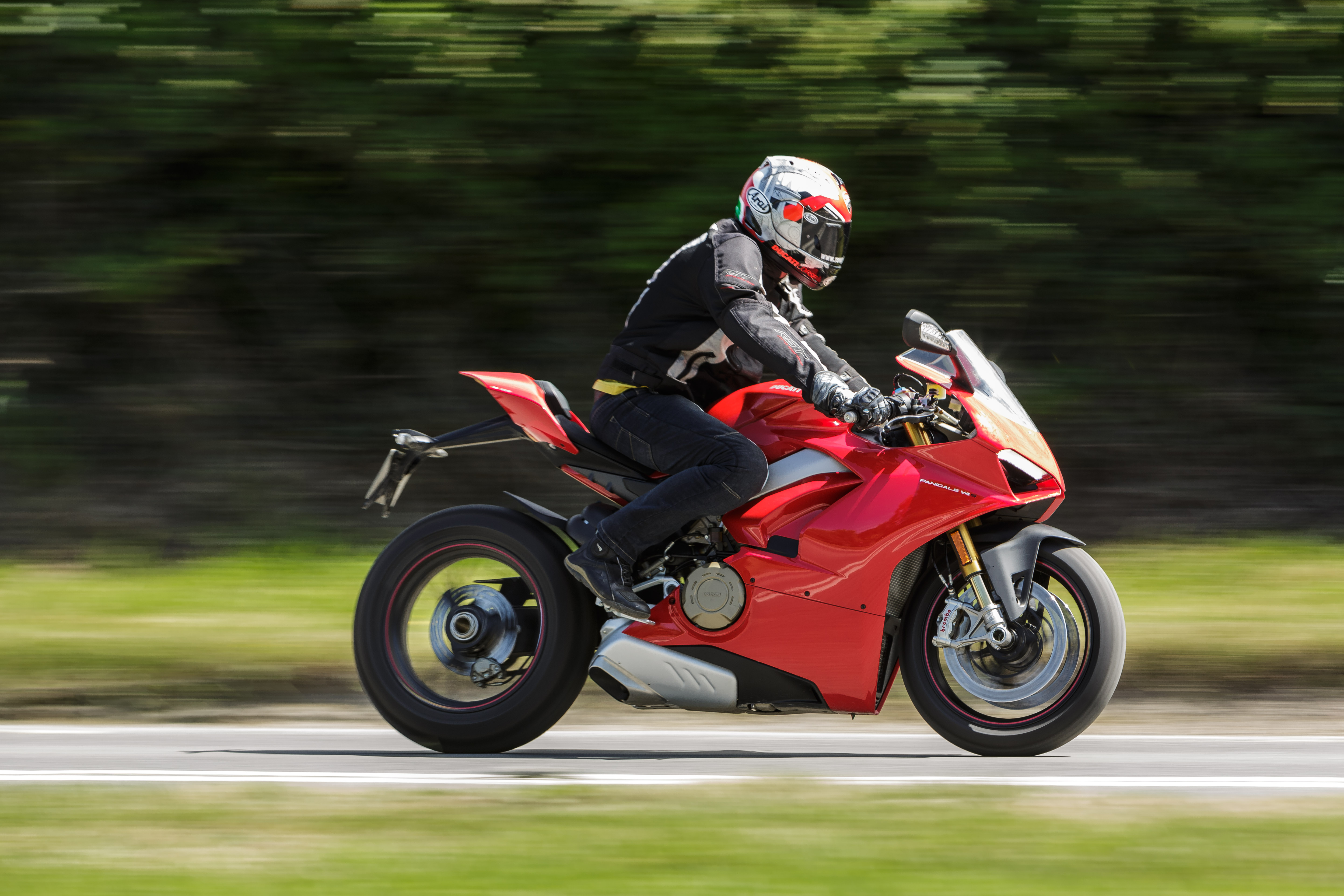 Working with the race team in Ducati Corse the developers have also been able to add slide control to the mix. This works in conjunction with the new traction control system. This is settable to various different levels and now allows the rider to spin the rear up in relative safety using the wonderfully titled 'spin on demand' setting.
To make things even easier there is a new quick shifter that works when the bike is being changed both up and down through the gears. This is a complex system that uses the bikes lean angle and ride by wire throttle to control the engines firing depending on the conditions when the gear selector is used. On the downshifts it uses the bikes Engine Brake Control and the slipper clutch.
All of these features are straight off the companies Moto GP bike and make everything that has come before them seem quite dated! Also included is the Wheelie Control System and a choice of riding and power modes. The stopping power at he end of that wonderful breaking system is courtesy of a brand new set of Brembo 'Stylema' radially mounted calipers and the bike sticks to dry tracks everywhere thanks to the standard Pirelli Diablo Supercorsa SP tyres.
It would appear that this is a machine that has intentions that are track related. The power delivery in all modes was striking and the bikes behavior on a variety of road surfaces was compliant and predictable.
This is a machine that we didn't even begin to scratch the potential of when we were on the road. Because of this we're just going to have to take one out on track…
The Panigale S which is the one that we rode, retails for €30,100 and the standard bike will set you back €24,400.
Check out what's new at the Carole Nash Irish Motorcycle and Scooter Show in the RDS, 1-3 March.
For information on how to book a stand, click here: https://bit.ly/2RI5hMy
---
PRICES AT THE DOOR: Adults €20 | OAP/Students €15 | Kids under 12 FREE