What's On Your Radar?
Some very interesting news that has reached us is that Ducati has now started to fit radars onto production bikes. The adoption of these systems promises might just be a game changer with the impact of ABS or TCS in the world of two wheels. This system looks like it'll be especially useful on long motorway journeys. Radars are advanced rider aid systems capable of supporting and making riding more comfortable thanks to the ability to read the real time situation surrounding the motorcycle. Ducati's interest in this type of systems goes back a few years, they first started to look at this technology back in 2016.
Now the system has been fine-tuned to a level where it can be used in a mass-produced road bike. The new technology has been developed and produced in close cooperation with Bosch, a top-level technology partner, and sees its first commercial use on the new Multistrada V4. Bosch are the same people who gave us that very clever cornering ABS a few years ago.
---
There are two units on the bike. The one positioned in front of the vehicle controls the operation of the Adaptive Cruise Control. This piece of cleverness works by means of controlled braking and acceleration and automatically adjusts the distance, which is selectable on four levels, from other vehicles when riding at a speed between 30 and 160 km/h. 
---
The rear radar, on the other hand, is able to detect and report vehicles positioned in our spot, that is the area not visible either directly by the rider or through the mirror. The Blind Spot Detection (BSD) system also signals the approaching from behind of vehicles at high speed. The system allows for more comfortable riding, especially on long motorway journeys.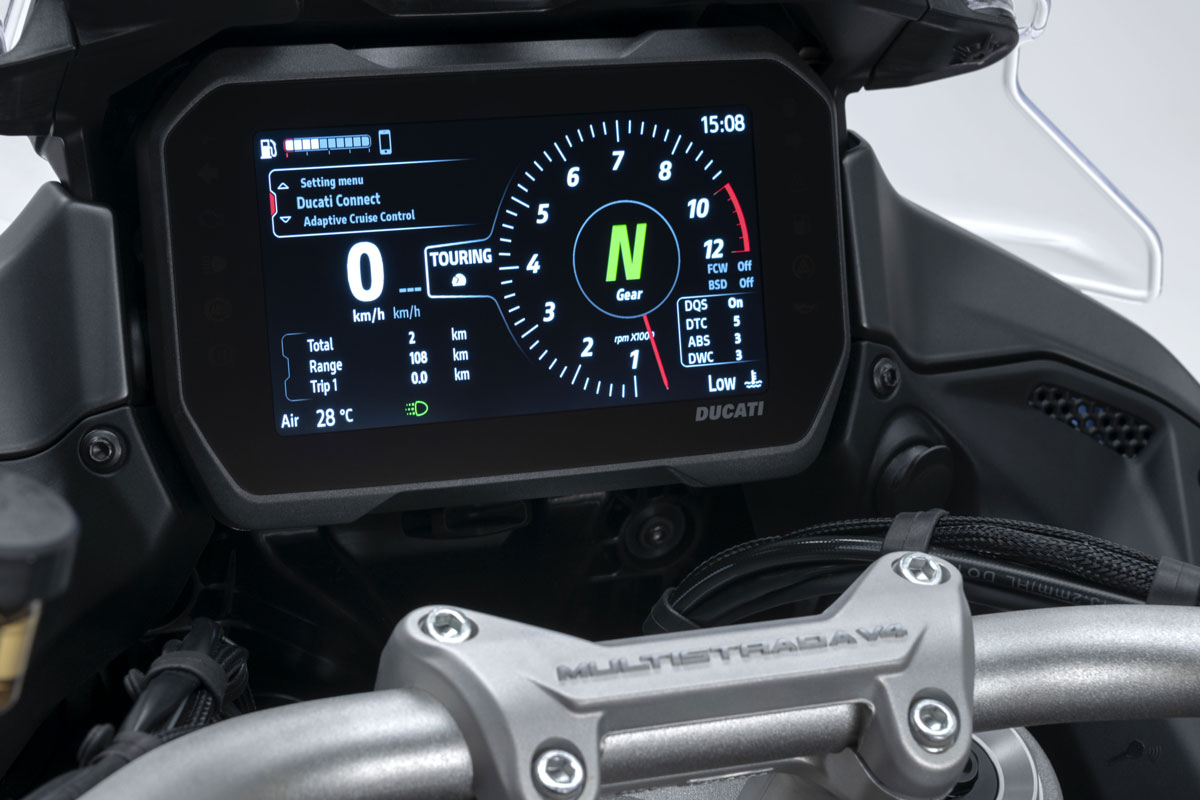 The new bike has just landed in Rosso Ducati where a test ride can be organised by appointment. Call Declan on 014642211 and start livin' the dream!